Welcome to SydneyMC
Roy McCullagh is an MC, wedding Master of Ceremony and Corporate compere. He is a passionate, inspiring, humorous and engaging speaker with a commanding presence.
Born in Dublin, Ireland & a very well respected and well known figure in the international tourism and hospitality industry, Roy has worked in Sales & Marketing for some of the worlds leading hotel groups including Trusthouse Forte, Hilton, Raffles and most recently as Director of Business Development at The Westin Sydney (Starwood Hotels & Resorts).
Prior to arriving in Sydney over 10 years ago, Roy spent many years as a bartender on the prestigious QE2, entertaining many clients along the way from the four corners of the globe. (Not to mention partying with Ronnie Biggs - The Great Trainer Robber - in Rio.) Since establishing himself in Sydney, Roy has been Chairman of ATEC NSW (Australian Tourism Export Council), National Board Member of ATEC Australia; Speaker Seeker for Business SWAP, and a member of many networking organizations including The Lansdowne Club, AMCHAM, and Australia Israel Chamber of Commerce.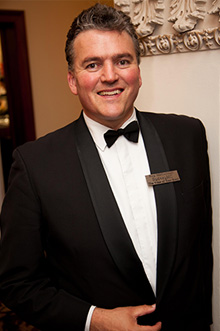 Roys presentations topics include:
How to find a Great Train Robber (`Anything is Possible`)
How to succeed in Sales & Marketing
Tough Business Lessons from the University of Life
Knowing your Audience
Roys clients include:
Best Western Australasia
Crowne Plaza
Tourism Ireland
The Mean Fiddler
Zonta
Lane Cove Public School
Greenwich Public School
Marist Brothers Eastwood
St Kevins Eastwood
Roy claims he is tri-lingual and fluent in English, Irish and Australian! And at 6`7`, who is going to argue with him! If comedy is the order of the day, this genial Irishman will soon have your audience calling for more. Now that you have read everything that I have written about myself, please read on and enjoy the following pages.